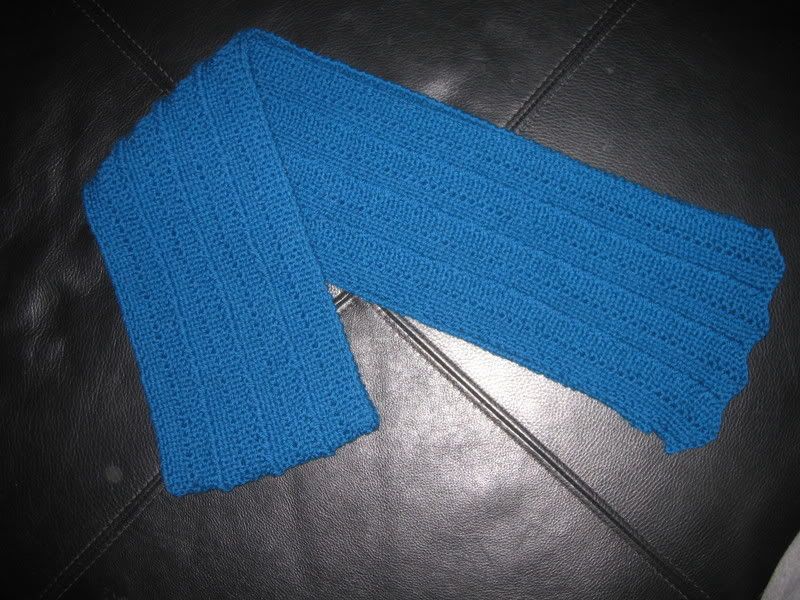 Pattern:
Zig-Zag Scarf from "
Scarf Style
"
Yarn:
Wool of the Andes from
Knit Picks
Needles:
#6 Addi Turbos
For:
Father in Law, Christmas
Notes:
I really liked this scarf. It was easy to knit and the pattern repeat was simple to remember. This is only a two row repeat, and you can easily work in other colors for a fun striped effect. I liked it plain for my Father-in-Law though, because he is a man with simple tastes. If I ever make this for myself (and I do believe I will) I would work in random stripes of color because it would look fun and cool. The main thing is that it is going to keep him nice and toasty warm while he is outside this winter because it is a thick garter stitch scarf, I hope he loves it!
Another Christmas Gift off the list! YAY! That leaves me with only 5 to finish in half as many weeks. Can she do it? Stay tuned to find out...
In other knitterly news, I have completed one of my brothers socks. They look awesome, but are taking some time to knit because of the pattern. I am just required to keep track of rows, which takes time (not much, I know, but still) so they aren't moving as quickly as I'd like. I am really happy with the way that the color came out in these. I wanted it to be "muddled" like it is, and not stripe too much. I love the bits of brown that come through the blues and greens. In non-flash light, these are much darker and could be worn with hiking boots or dressier shoes. I do believe they will fit him perfectly too! I plan to finish them first thing because they need to be shipped to Arizona. Then I will work on the gifts for local people (you know, the ones I can be knitting the night before Christmas...) Wish me luck!
Speaking of what is left to knit before Christmas, I humbly give you the updated Christmas Knitting List. Hopefully I will have several of these things checked off in the next few days, otherwise I don't stand half a chance of finishing on time. Such stress, remind me not to do this again next year, huh?
Finished Objects:
1.
Grace's Birthday Sweater
, Manos Cotton in "Grape" and "Raspberry"
2.
Mother-in-Law's Birthday Jaywalker's
, Lisa Souza in "Little Devil"
3.
Mom's Birthday Jaywalker's
, Lisa Souza in "Mardi Gras"
4.
Hubby's Christmas Hat and Scarf Set
, Manos and Lopi Wool
5.
Paul's Christmas Scarf
in "Fern" Wool of the Andes
6.
Danny's Ziz-Zag Scarf
, "Mist" and "Carrot" WotA
7.
Charity Liesel Scarf
in "Rain" WotA
8.
Kelly's Christmas Jaywalkers
, Lisa Souza "Sky Drama"
9.
Amber's Log Cabin Socks
, Patons Classic "Natural"
10.
Dad's Christmas Socks
, Lisa Souza in "Gendarme"
11.
Hubby's Log Cabin Socks, Patons Classic in Chocolate
10.
Father-in-Law's Zig-Zag Scarf
in "Stream"
On the Needles:
1.
Mother-in-Law's Liesel
, Catalina Cotton/Alpaca in red (15%)
2.
Michael's Christmas Socks
, Lisa Souza in "Wild Things" (50%)
4.
Jimmy's Ravens Socks
, "Black" & "Wisteria" WotA (50%)
Still to Knit:
1. Mom's Christmas Headbands, Lisa Souza Alpaca in "Seamist"
2. Tony's Christmas Scarf in Cranberry WotA