I began my brothers Christmas socks yesterday because I had some family over for a belated Thanksgiving dinner, and all of the projects I have on the needles were projects for them! They are the Gentleman's Socks with Lozenge Pattern from
Knitting Vintage Socks
by Nancy Bush. I wound Michael's yarn, then cast on. I love this ribbing pattern, but it was really LONG! The only issue with that is that I can't make Mike's socks as long as the pattern calls for because I am about 150 yds. short on the yarn requirement. So, I figure instead of the 7 repeats on the leg pattern, I will do 4, then start the foot. I don't need to do as many repeats for the foot as she calls for, because Michael is a size 10, not an 11. Whew. Anyway, here is the sock with the photo from the book, the color of this yarn is impossible to capture. It is Wild Things from
Lisa Souza
, and has deep blues, purples, greens and hints of rust. Its is so beautiful.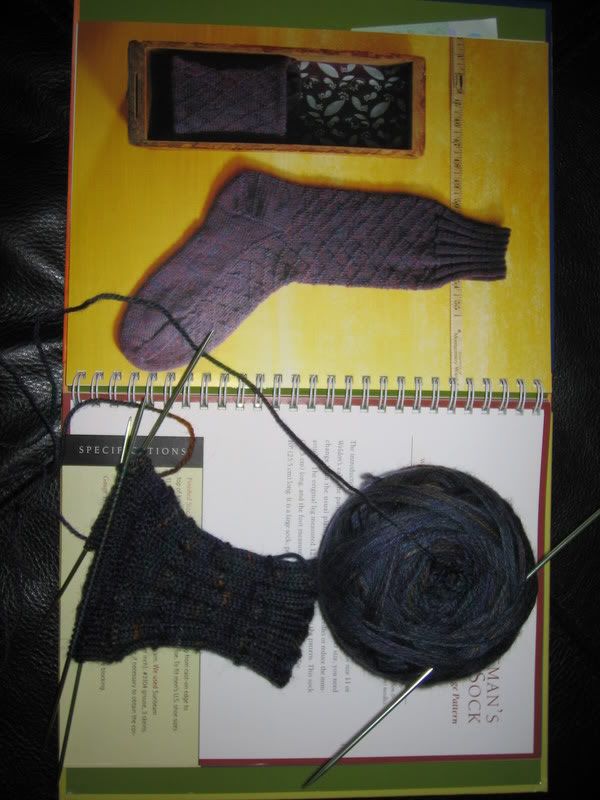 The colors in the below photo has a brighter (i.e. flashed out) version of the yarn. Just imagine this, darker and more subtle. It is doing the slight twist of the green, which is fine with me. I just hope he likes this color.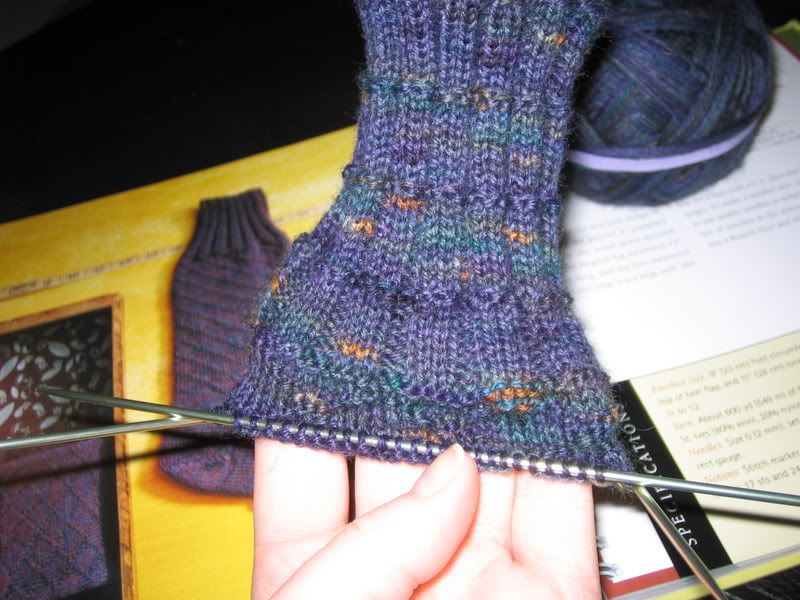 The pattern itself is really fun, it's easy and pretty mindless. It is something I can do while I am watching TV, but I am getting a great pattern. I love it!
I also had Jimmy try on the giant purple sock yesterday (I know, it ruined the surprise) now I know it fits...which is really important. So I will be working on that this week as well. Also, I think I have decided to make my Mom a lace headband. She loves wearing headbands, and she would be able to use it to cover her ears in cold weather. I think she'll love it, I just need to find a pattern now...
Oh, and I am going to be spending the next two weeks doing some temp work for a local ad agency. I am excited, but it will cut into my knitting time, so bear with me.