Finished Object:
Grace's Birthday Sweater
Pattern:
Loosely based on a pattern from the Debbie Bliss Cashmere book
Yarn:
Masno del Uraguay Cottton Stria in Grape and Raspberry
Needles:
Addi Turbos in size #6
Start Date:
July at some point
Finish Date:
September 10th
Special Accessories:
An antique button
Notes and Comments:
I hate working with bumpy cotton yarn. I will never do it again. No matter how soft it feels in the store, no matter how pretty the varigation is when knit. (This is a mantra to myself as much as it is a note to you.) The colors on this were amazing and so fun to watch grow into a sweater....I love how bright and cheerful they are. The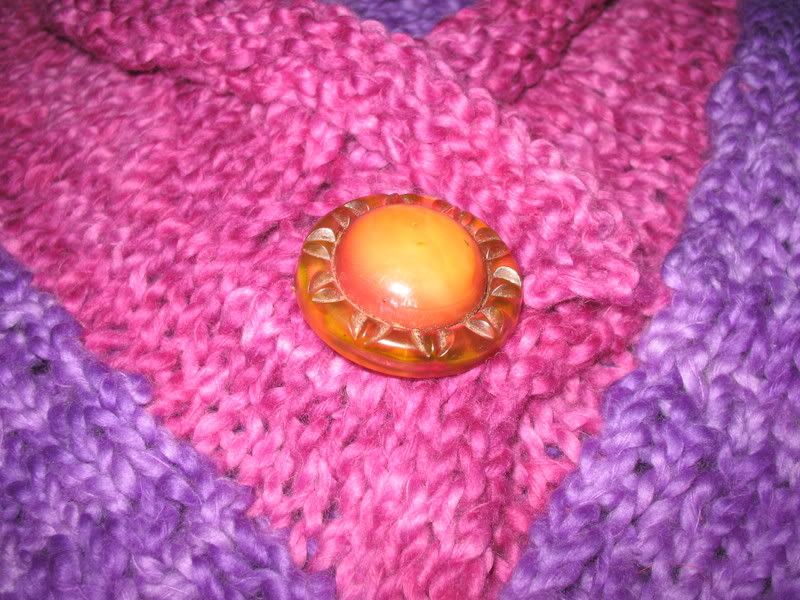 rolling cowl neck of the sweater was created mainly because the suggested ribbing didn't look good in the cotton at all. I am no pleased as punch with the seaming...but then, I am never that happy with my seaming.
Photos:
One photo of the whole sweater and one of the detail of the antique button. In the photos it looks orange, but in real life the center is an ivory, almost amber color and the surrounding area is a pink.
Overall, I am very pleased with the way this turned out, I think it will fit her like a glove and I can't wait to see it on her. Photos after her birthday on Saturday...so stay tuned!