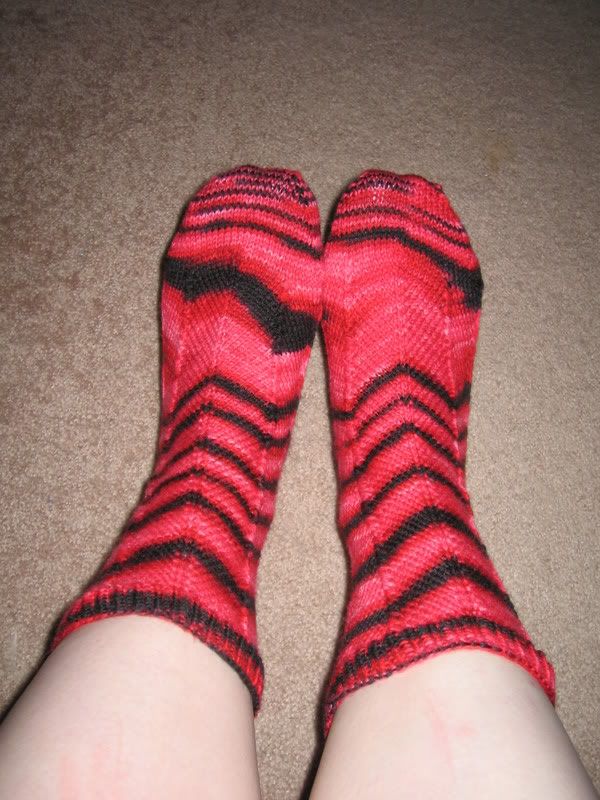 Pattern:
Jaywalker
, by the lovely and talented
Grumperina
Yarn:
Lisa Souza
sock yarn in "Little Devil"
Needle
s:
#2 Brittany Birch DPN's
Special Information:
These are my September contribution to
Knit the Classics
. The book this month was
The Time Traveler's Wife
by Audrey Niffenegger. The book is exceptional, I adore it and have read it about 5 times already (though not all in this month alone!)
The primary reason I chose this pattern for this book because I felt that the zig-zagging lines mimicked the way poor Henry was always jumping
from time and place to time and place. When viewed alone, each journey seems arbitrary. However, viewed as a whole, we see the pattern of these journeys and how they composed his and Clare's lives.
The secondary reason I chose this pattern was the emphasis put on the fact that Henry was always barefoot when he arrived in his unknown locations (naked completely, in fact.) These socks would have been the thing to save him when he arrived in the parking garage, and I only wish he could have had them then, when he needed them most.
Finally, I chose this yarn because red is the color of love, and at the conclusion of this book, love is what I took away most. Gut-wrenching, heart-tearing, mind-numbing love...just the kind I like!
Pattern and Notes:
I LOVE THIS PATTERN! It is an easy, quick knit. It looks wonderful no matter what yarn I knit it in. It isn't overly feminine or masculine, but that perfect middle-ground where the project can be knit for somone of either gender. Please, knit this pattern, you won't regret it!
ETA: My Mother-in-Law has teeninesy little feet, so if these look a little funny, that's probably why. She wears a 5.5 and her feet are narrow as can be, so these look like a pair of socks knit for a child!