First up, we have my third pair of
Jaywalkers
, in
Lisa Souza
sock yarn in "Mardi Gras". These will be for my
Mother for her birthday
. There has been more progress since this photo was taken last night, but I think that the colors are coming out really well and I am happy with the striping in them.
These colors are so scrumptious to me, they remind me of Fall; pumpkins, candied apples, nutmeg and hot cocoa. My Mother is a bit of a sock freak, she loves fun and funky socks, and has tons for each holiday but most of them are just off the wall and for every day use. (She brought me a pair from Sea World with pink flamingos all over them....I love flamingos!) So, I thought that some hand-knit socks would be just the thing! I am a little scared that I am opening up a can of worms and that she will request a lot of hand-knit socks from now on....but oh well!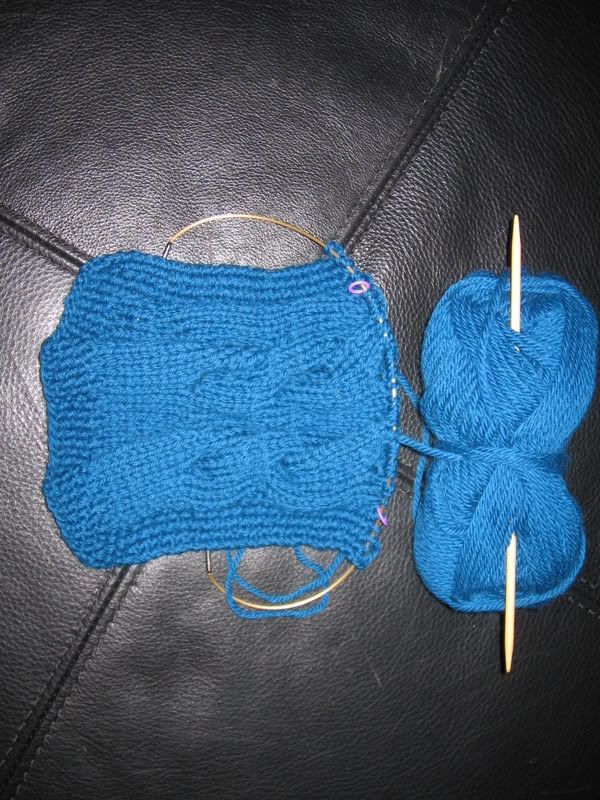 Anyway, next up is my
Father-in-Law's scarf for Christmas
. It is in
Knit Picks
Wool of the Andes in "Stream." The Wool of the Andes has been really nice to knit with, very soft (though I assume it will get softer with washing) and it doesn't pull apart too easily, so that's nice.
I think this color is so amazing, I am really happy with how vibrant it is in person, but in a very subtle natural way. It reminds me of a peacock feather, and these photos don't accurately display the depth to the blue and the slight green undertones. I went with a really simple cable pattern from
Vogue Stitchionary Volume Two
because my FIL is a simple man and anything more "frilly" than this would have been over the top. I hope he loves it. I have 6 balls of this yarn total, and I think that will be more than enough.
Traveling Yarn:
I will be headed to Bermuda on Tuesday afternoon and these are the projects I intend to take with me.
Mom's Birthday Jaywalkers
- should be perfect knitting for the plane/beach/restaurants
Irish Diamond Shawl
- remember this? Must write out lace pattern before leaving. Hate. Charts.

Kelly's Jaywalkers
- talk about being obsessed with a pattern! The yarn hasn't even been wound yet, but if my best friend won't help me, who will?