It is a dreary day in Baltimore. It is literally raining cats and dogs, and because of that I have decided to stay indoors. I am knitting, baking, watching TV and applying for jobs. Look at those rooftops...don't be fooled by all of the white, it is just fog and rain:
Down in the warm and cozy basement, Bubba and Bella snuggled up with my various knitting projects. With Christmas only a month (ok, a month and a few days) away, my knitting is EVERYWHERE. Seen strewn about Bubba is Hubby's [still] unfinished Log Cabin socks, Jimmy's one finished Giant Purple People Eater (and the yarn to make another), my Mother-in-Law's Liesel and last but not least, Katie's Shawl. Doesn't he look comfy?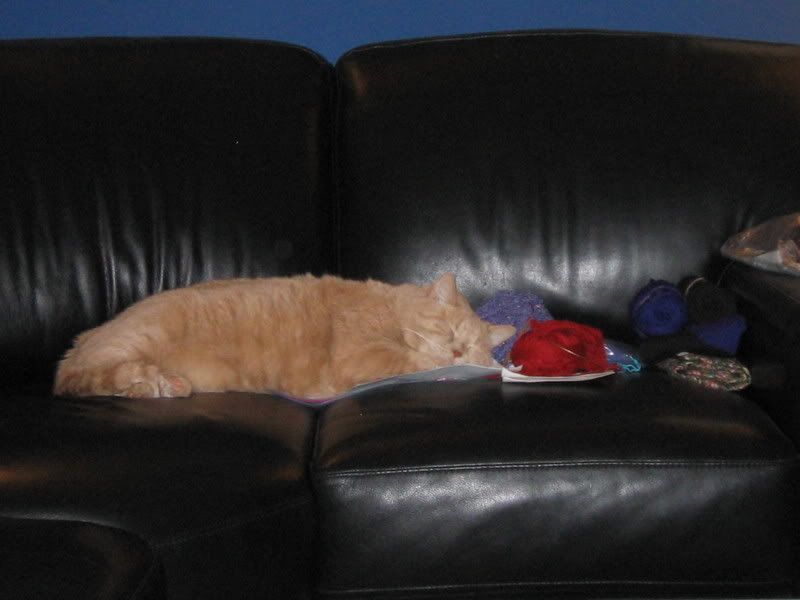 I woke Bella up (sorry baby!) but she was sleeping, I promise. Her pillow was my Father-in-Law's Zig Zag Scarf, and in the background you can see my computer with the job search web sites displayed. Isn't she a cutie?
Now for some close-ups on some of those projects. My Mother-in-Law's Liesel Scarf in the beautiful red Catalina Cotton/Alpaca blend yarn. This yarn is yummy. Seriously soft but with excellent stitch definition. Love it...hopefully she will too:
And one of those socks is done. You should see it on my foot. It makes me feel like a little girl again. I will take a photo that way once I am done with both. I hope that these fit the way he wants them to...keep your fingers (and toes) crossed.
Tomorrow I will be making biscotti (with citrus zest) and knitting more as well as applying for more jobs. Maybe I'll have more photos then, we'll see!