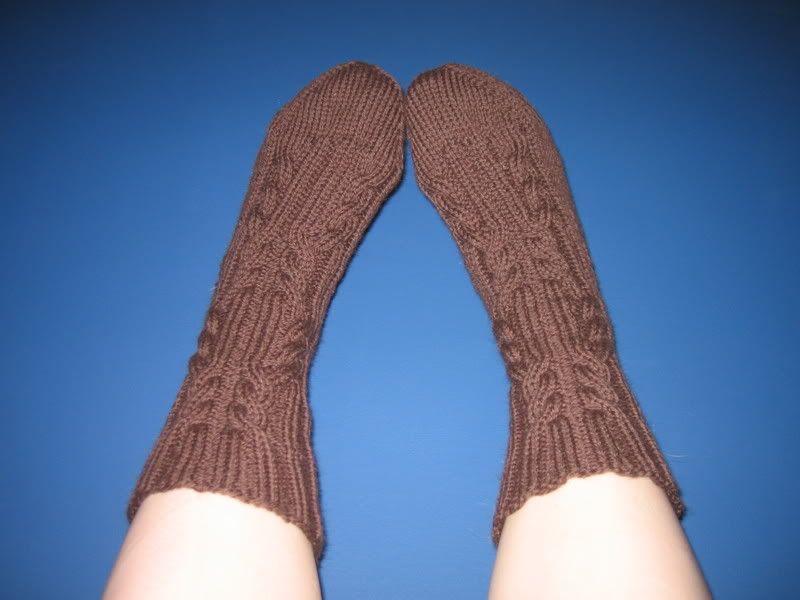 Pattern:
Log Cabin Socks from "
Handknit Holidays
" by Melanie Falick
Yarn:
Patons Classic Merino in "Chocolate"
Needles:
#6 DPN's by Addi
Pattern Notes:
The second pair of these socks took a little longer than the first because I got started on other things. However, these were fun and quick to knit. I picked up the second sock yesterday (which I had only completed the ribbing pattern on until then) and finished it up while we watched football and TV shows all day. It matches its mate perfectly, and looks fabulous! Can't wait for him to try them on on Christmas morning! Another Christmas Knit complete!
Also, I went to my Saturday stitch and bitch at the shop and did a little knitting for ME, which I know was wrong, but I did it anyway. I finished two more lace repeats on the Irish Diamond Shawl, and I will share photos next time. I also scored this wonderful ball of Austermann Step with Jojoba and Aloe in the wool! I love the colors, and can't wait to make these into a pair of socks! The updated Knitting List follows:
Finished Objects:
1.
Grace's Birthday Sweater
, Manos Cotton in "Grape" and "Raspberry"
2.
Mother-in-Law's Birthday Jaywalker's
, Lisa Souza in "Little Devil"
3.
Mom's Birthday Jaywalker's
, Lisa Souza in "Mardi Gras"
4.
Hubby's Christmas Hat and Scarf Set
, Manos and Lopi Wool
5.
Paul's Christmas Scarf
in "Fern" Wool of the Andes
6.
Danny's Ziz-Zag Scarf
, "Mist" and "Carrot" WotA
7.
Charity Liesel Scarf
in "Rain" WotA
8.
Kelly's Christmas Jaywalkers
, Lisa Souza "Sky Drama"
9.
Amber's Log Cabin Socks
, Patons Classic "Natural"
10. Hubby's Log Cabin Socks, Patons Classic "Chocolate"

4.
Dad's Christmas Socks
, Lisa Souza "Gendarme"
On the Needles:
1.
Father-in-Law's Zig-Zag Scarf
in "Stream" WotA (33%)
2.
Mother-in-Law's Liese
l, Catalina Cotton/Alpaca in red (15%)
4.
Jimmy's Ravens Socks
, "Black" & "Wisteria" WotA (50%)
5.
Hubby's Christmas V-Neck
, Jamesons Worsted in Charcoal (25%)
Still to Knit:
1. Mom's Christmas Scarf, Lisa Souza Alpaca in "Seamist"
2. Michael's Christmas Socks, Lisa Souza in "Wild Things"
3. Tony's Christmas Scarf in Cranberry WotA