For someone who doesn't love purple, there is a lot of purple action going on over here lately! I am working on Jimmy's Christmas socks, which are gigantic. However, this is not a by-product of not checking gauge, but my concern for what he is looking for in a winter sock. He can't wear wool next to his skin, but since he is in and out of doors all day, he really needs the warmth of wool on his feet. He asked that his socks be designed so that they are large enough to wear a pair of cotton socks underneath. So, these are large, but it was intentional. They are mainly black with Ravens purple accents on the heel and the toe. I hope he loves them. They are being knit on #4 Brittany needles in
Wool of the Andes
, which is a large yarn for sock, but remember, these are for warmth, not style.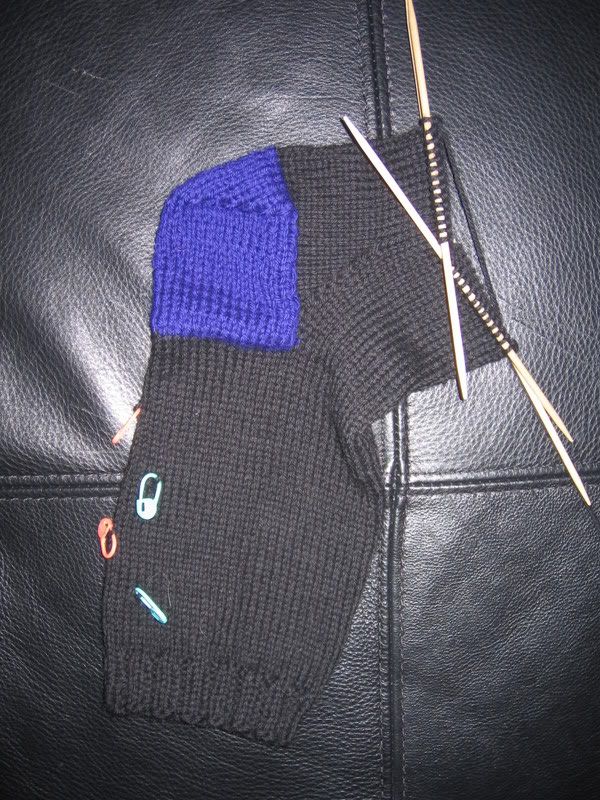 I am also working on a shawl for my good friend Katie. She bought the most beautiful
Blue Heron
Rayon Silk blend yarn at her
LYS
while there with her Mother about 3 years ago. She had no idea what to do with it (she crochets) and so she asked me to take a stab at making it into something beautiful. It has pink and purple nubs in the yarn, which would obscure any type of pattern, so I decided to knit it in the shape of a triangle (CO on 3 sts, K1, YO, K to end on each row until it is the size you want it and then BO) and keep it simple. The garter stitch looks fantastic in this yarn. The shawl itself looks light and airy, even though it is actually quite heavy due to the weight of the yarn. I want it to be something she can wear with jeans and a tee shirt or with a little black dress. I think it will fit the bill.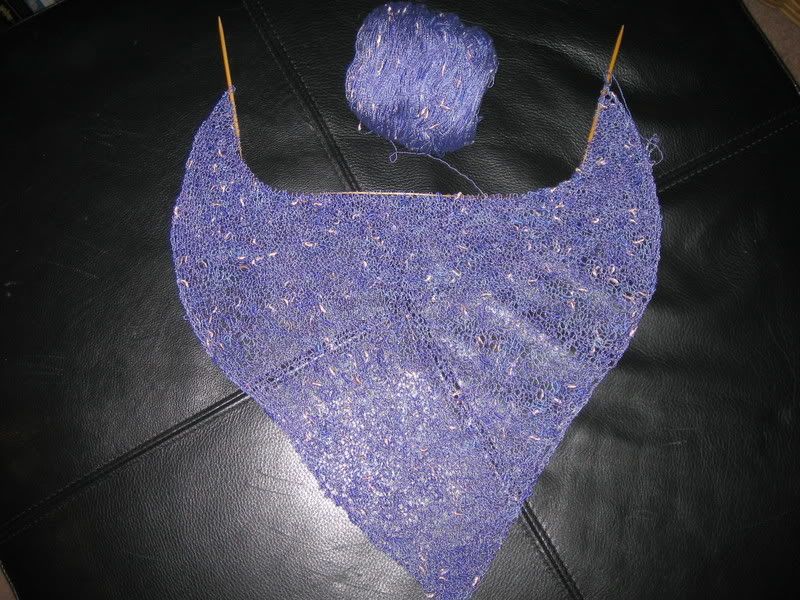 Here is the close up of the yarn and the fabric is the creating, taken with the macro setting on my camera. I won't profess to be talented at capturing things in macro just yet, but I am trying. The color on the first photo is more accurate. However the close up on the plying and nubs is really good in this photo. I would LOVE to have this done for her by her house warming party this weekend, but I don't think I will. I can only manage to knit one or two rows at a time because, well, it bores me a little. Maybe for Christmas.
The last bit of purple is the only purple for me, and makes me really happy to look at. And really really happy to touch. Kristi over at
Knitter's Anonymous
and I were chatting and I was lamenting the fact that I had never sampled Lorna's Laces. She had quite an impressive stash of it and had two hanks that were a color she wasn't thrilled with (though I was) and offered them to me at a VERY reasonable price. I gladly took them off her hands and they arrived and I am in love with them. I have wound one into a center pull ball already and will do the same to the other as soon as I get knitting on the first. I know it will sound trite, but I believe the perfect pattern for this stripey yarn is Jaywalker, so that's what I'll be making myself after the Christmas Knitting is complete. Lovely macro closeup below (though the color is brighter in reality and can be seen
here
more accurately):
I am now wanting to try "Aslan" and "Black Purl" from them as well.
Lots of purple, but not much progress. I reorganized my yarn stash this weekend, as it was getting quite out of control. I wound some red Catalina Alpaca/Cotton for my Mother-in-Law's scarf, and pulled out the progress I'd made on my Mom's "My So Called Scarf" (sorry Peter!) because it just wasn't doing the yarn any good. I'll have to find the perfect pattern for it soon though! I have decided to set it aside for now, as all it seems to be doing is frustrating me. I am currently working on my
Father-in-Law's Zig Zag Scarf
, Jimmy's Socks, Katie's Shawl and
Hubby's second Log Cabin sock
. I finished my
Dad's Christmas Socks
, but I am not convinced that they are long enough for him, so I have to find someone with 9.5" feet to try them on for me. They look great though! I'll post photos when they are properly declared finished once and for all.