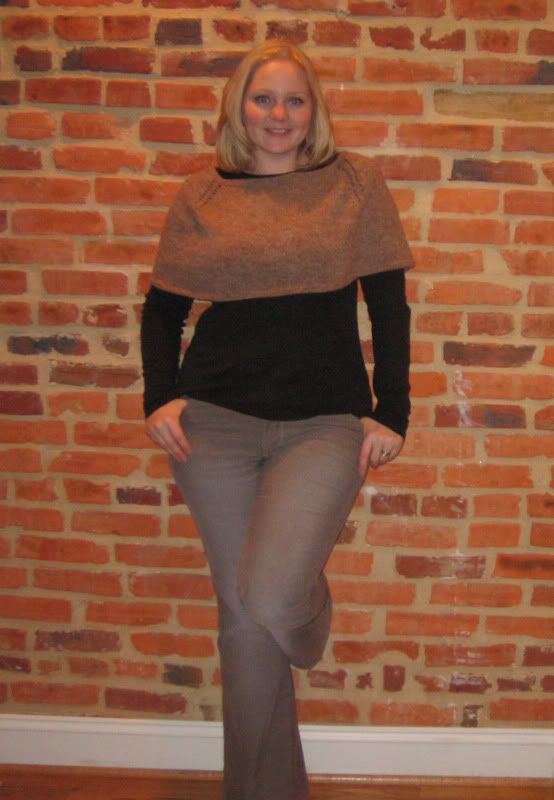 Pattern:

Grand Plan Capelet from Wrap Style

Yarn: Cottage Craft Tweed 100% New Wool in Oatmeal

Needles: #6 Addi Turbos

Notes: When I first bought this book, I spotted this pattern and knew that it would be the first pattern I would knit once I got it home. While not one of the more visually exciting pieces in the book (like the cover pattern, which I will knit eventually, by the way) it is one of those essential pieces of knitting that I knew I had to both have it and knit it.
This yarn was quite scratchy when I started working with it, and I began to question whether I made a bad call, but after blocking it is SO soft and squishy!
The pattern is the simplest of simple patterns, and if you are unsure how to work in the round, this is a great place to start. I wore this today, and got a lot of wonderful compliments on it!
It is amazing how warm something that only covers your upper arms can really keep you, but it did keep me nice and toasty all day long. It goes so well with my khaki cords and any neutral color shirts that I know I will wear it over and over. I plan to knit myself one out of a metallic yarn at some point so that I can wear it when I go out in the evenings over little black dresses and such.
I strongly suggest knitting one of these yourself, and my review of the book is this:
"If you like to knit, you must own this book. It is essential and promises many hours of happy knitting."