My LYS-
A Good Yarn
held their annual sale on Monday, The Velvet Rope sale. Everything in the store was 20% off, and most of the yarn was additionally marked down. It is a special sale, as the proprietor, Lorraine, only invites her regular customers. I bought some very fun things, including:
This
Cottage Tweed Aran Weight in 100% wool
. I got 360 yards of the "copper" (on the top) and 720 yards of the "stone" (under the copper). It goes perfectly with the 720 yards of "natural" (on the edges) that I bought at last years sale! I would like to make the new
funnel neck sweater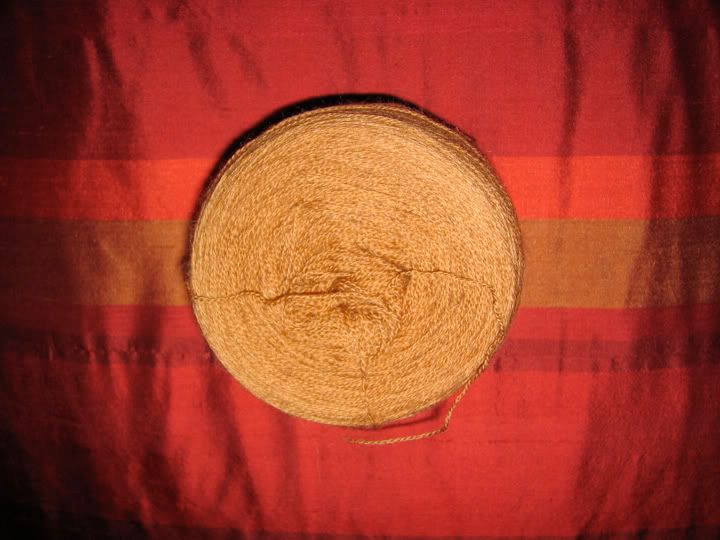 from Magknits out of this yarn, but I can't figure out how to make the colors work together. I think I would have enough with just the copper and the stone. I could do a stripe or some edging, or maybe even a hidden folded-under hem (ala the ever-fabulous
brooklyntweed
.) At any rate, I can't wait to wear this yarn, it is plied just to my liking!
I also got
1,000 yards of copper-colored Lace Weight
of indeterminate content or brand. I will be asking Lorraine though, simply for care instruction purposes. I would like to make the Kimono Shawl from
Folk Shawls
out of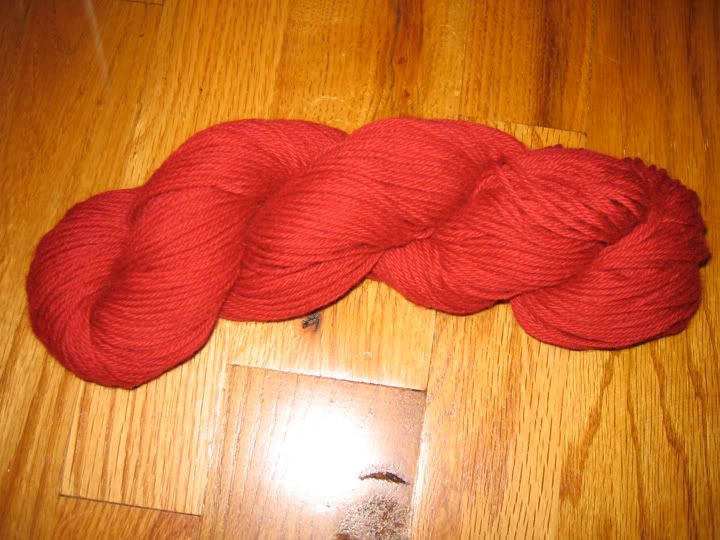 this.
For Christmas purposes, I got
200 yards of Catalina Alpaca/Cotton
in red. I plan to use this to make a
Branching Out
for my Mother-in-Law. I had originally purchased a light blue alpaca yarn for her, but her new winter coat is white...and I wanted her scarf to "pop" against it. I think she will LOVE this color. The yarn is so soft, but not "furry" like some alpaca can be because of the cotton blend. Personally, I love the au natural feel of alpaca, but she has sensitive skin, and not everyone can be as obsessed with yarn as I.
I got myself (MINE, all MINE)
Schaefer "Anne" in a beautiful midnight color
. I plan to make some really special socks with this yarn. It was the most expensive thing I bought (still reasonable, however). As soon as I walked into the shop I spotted this yarn in a basket and knew I would end up buying it. I then spent a good 45 minutes pretending it didn't exist until another (wonderful) knitter slipped it into my bag and said "Go on honey, you deserve it." And you know what? She was right! I can't wait to knit this! Alas, it will have to wait until my post-Holiday time, as Christmas knitting is consuming every spare moment I have these days. Maybe I could just swatch it in the meantime? Get an idea of the pattern I could use it for? We'll see.