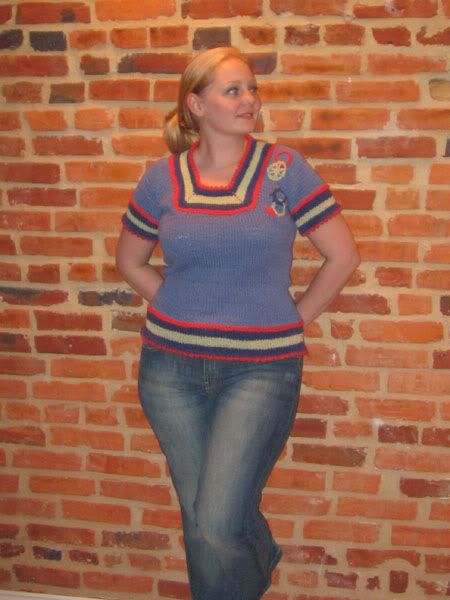 Finally, a photo of my finished
Mesilla
! I would like to take another photo shoot at a later date so that I can enter this sweater into the
Knitty Calendar Contest
. But, as it took a great deal of energy and an even larger deal of patience to get my lovely husband to take this photo, I am not sure I'll have much success with another shoot. We'll see.
Details:
Mesilla
, designed by
Stefanie Japel
Yarn:
Mission Falls 1824 Cotton
Needles:
#6 Addi Turbos in metal and #6 Addi DPN's in wood
Started:
June 26th
Finished:
June 30th
Details and Notes:
This is the first pattern I have ever bought the recommended yarn for. I was so excited when I saw this pattern that I knew I had to make it as close as possible to the original. I love the colors and the feel and how warm the cotton is, though one thing I learned is that I don't like knitting with nubby cotton
at all
. I actually changed nothing about this pattern, which is rare for me. It was written so well for my body type, as all of Stefanie's patterns are, that I didn't need to change a thing. This sweater was "premiered" on July 4th, because the colors and the embroidery reminded me of fireworks. Enjoy!